Commercial-productive Company Aliyev & Co (further Company) has been established on November, 16 in 1993 in correspondence with the legislation of Azerbaijan Republic.
Aliyev & Co Company dealing with producing, importing, selling and repairing equipments intended for the sphere of trade rendering of household services (café, restaurants, hotels and etc.). Simultaneously, Company dealing with the producing of building materials, including tiles and foam plastic. At present the Company producing above 30 various named products which realizes both in the internal and external markets. The Company makes export-import transactions more than 20 countries.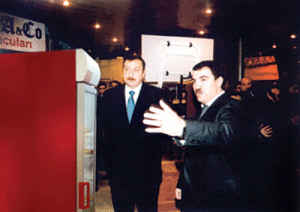 Our Company has established the economic partnership with many companies of Russia, Ukraine, Kazakhstan, Turkmenistan, Iran, Turkey, France, Germany and other counties.
With the purpose of the subsequent sale we import electronic scales using as a weighing equipment in sphere of trade from the appropriate trade firms located in the cities of Russia: in Saint Petersburg, Tombov, Voronej, Tver, also in Turkey and South Korea.
It would be desirable to note that in November of the current year we celebrated 10 years anniversary of our Company.
Representatives of different countries invited to the celebration of this event, highly appreciated quality of the trade equipments producing by our Company and experience acquired in this sphere.
At present our Company planning to open official representations in Kazakhstan, Uzbekistan and Belarus.